The Interview: Melanie White from Rebelle Surf, Sligo
Photo credit:
Melanie White from Rebelle Surf
Each month on Girl Outdoor Magazine we catch up with awesome people impacting our world. This month it's the turn of Melanie White from Rebelle Surf, Co. Sligo, Ireland.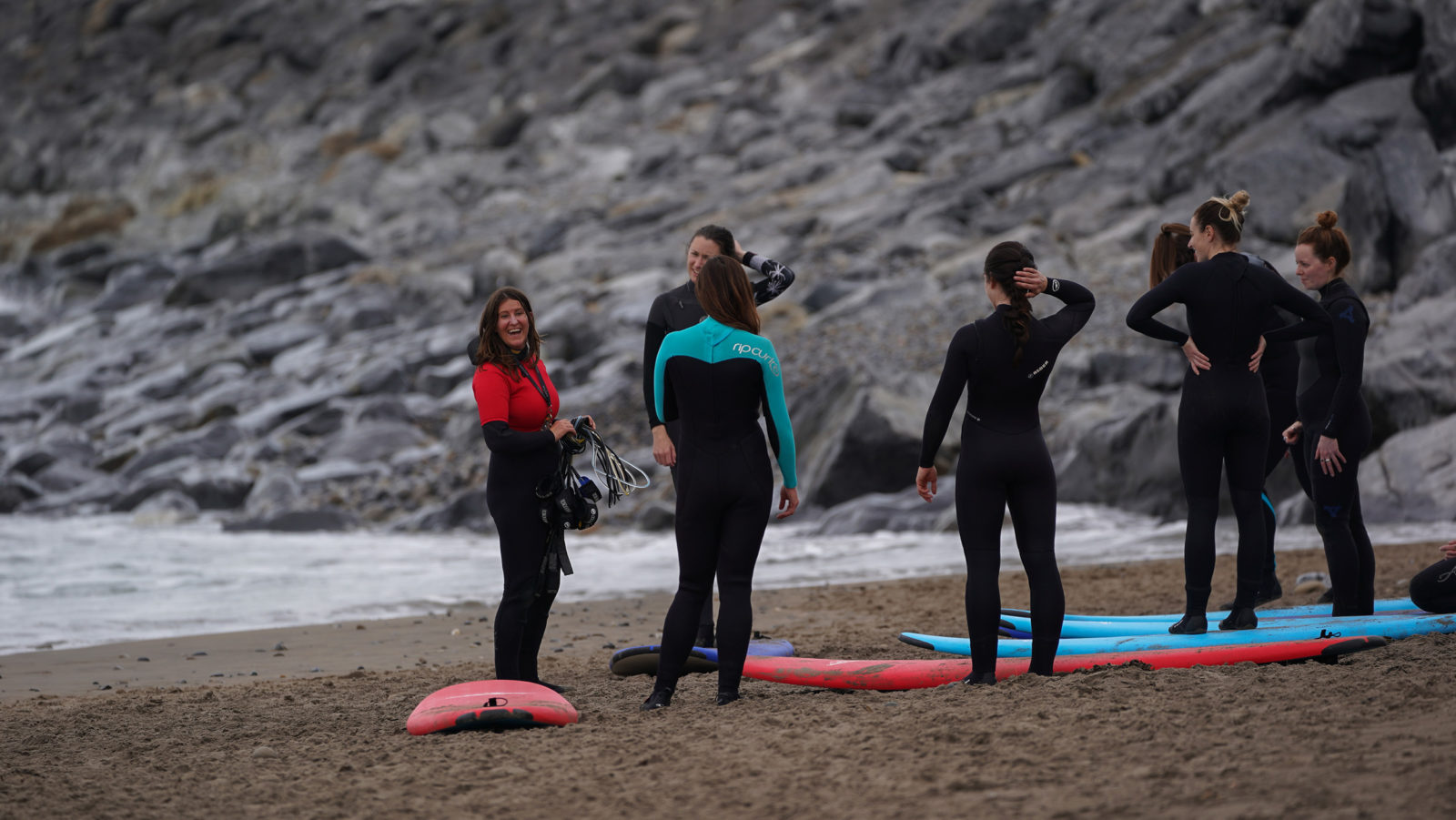 Photo credit:
Rebelle Surf, Sligo
Tell us a little about yourself and Rebelle Surf?
I'm a lover of the ocean through and through, my true north and where I return to time and time again. More like an extension of myself rather than somewhere I go to. I'm actually more at ease and at peace bobbing around in the ocean and the waves than I am sitting on shore or surrounded by people. It's the least lonely place I know and  I come home to myself there every time. I believe it's because I fully connect with myself and my surroundings in that environment. 
My relationship with the ocean started early. My family have the ocean in their blood. Sailors, fishermen, merchant navy men and swimmers. I guess you could say I'm descended from a line of Salty Sea dogs Ha! I started swimming when I was just a few months old and sailing when I was three. As much as I loved sailing and racing I always found the best bit was when I capsized (boat turning upside down) or when I was planing downwind which is a similar feel to surfing. I got easily distracted dragging my hand through the water and looking behind me at the wake of the waves I was making and through the water at the fishies below! The first time I tried surfing I was instantly sold on the whole deal and never looked back. I bought a board the very next week. 18 years later and I'm still as hooked as day one. 
Surfing became my compass and anchor all at the same time. It turned out to be an incredibly healthy fulcrum that pulled the rest of my life into a kind of flow that I didn't expect. Surfing demands a huge amount of presence, self reliance, courage and flexibility all at once, and a sense of humour helps!
Connection to the natural world and its rhythms come as part of the experience without effort or choice. The world became a playground and classroom full of waves and lands that were calling to be met and danced with and I wholeheartedly heeded the call. Ten years of dedicated surf exploration through different cultures followed and I came back a different person every time. 
Where are you based?
My company is based in Strandhill, Co. Sligo nestled perfectly on the Wild Atlantic Way. I can safely say it's my favourite place on the planet and the only place that has my heart completely. For a surfing nomad that's a pretty big statement! I also run lessons on Streedagh beach especially during winter as it can handle the big winter swells and it's a stunner of a beach too.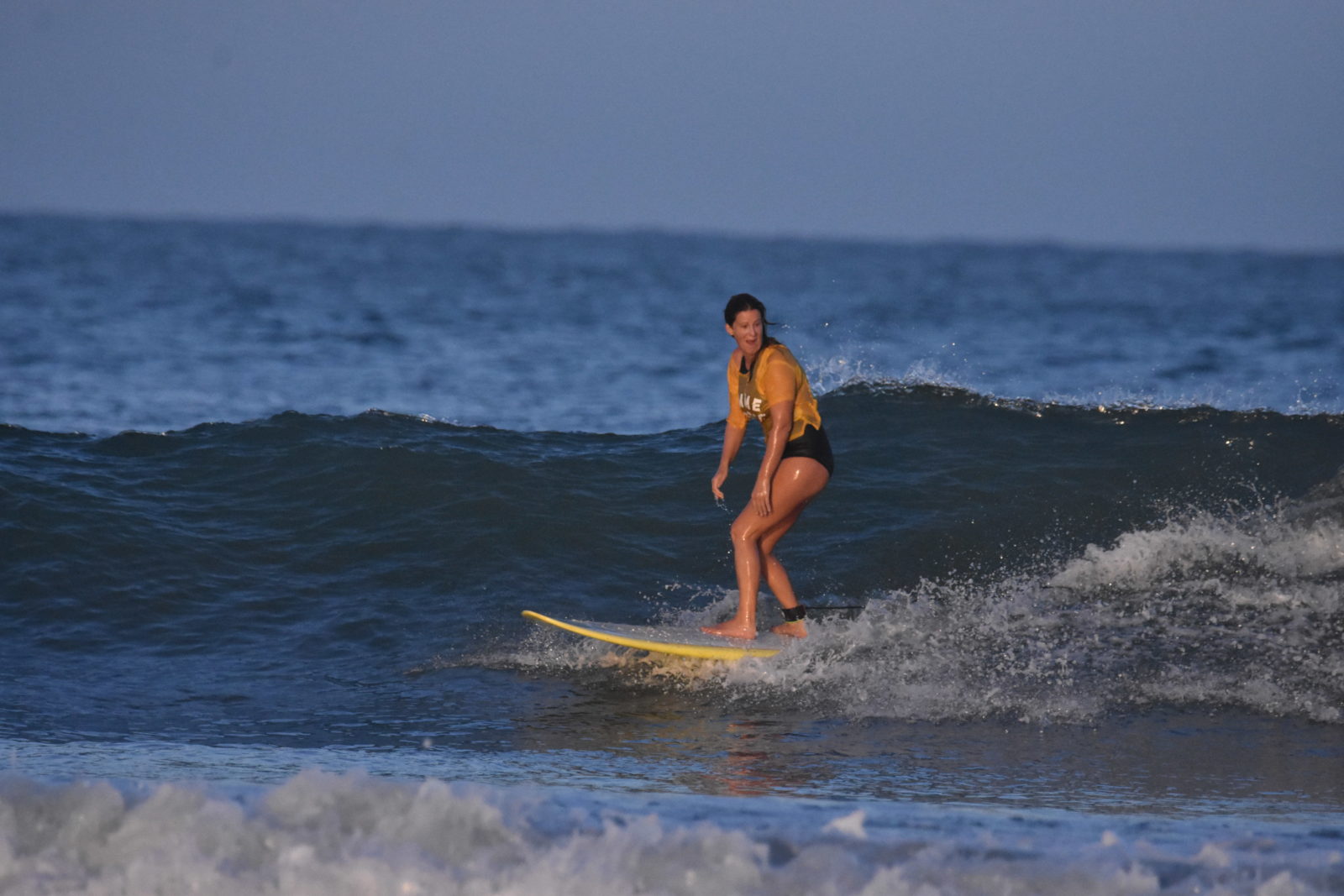 Photo credit:
Melanie from Rebelle Surf
How can people get involved? 
Everyone is welcome! All ages, levels of fitness, sizes, gender. I teach everything from beginner lessons to more advanced progressive sessions.
What advice would you give a beginner surfer or someone starting out?
Take a lesson! Save yourself the the drama of doing it the hard way without help. Simple instruction goes a long way. 
Be prepared to commit to the journey that surfing takes you on. It's not just a sport, there's a deeply transformative side to surfing that isn't represented in mainstream surf culture. If you focus solely on the technical side and your performance for other people you might miss the gold. Surfing is a clear path to connecting with your self,  your environment and practically working through and with your personal challenges, whatever they may be. Best part is you get to do it while having fun and expressing yourself! 
My style of teaching is very unique to my company. It's really more of a whole experience that meets people where they are both physically and mentally, rather than forcing one method on everyone. What works for one person could be impossible for another. We all have different strengths and my lessons will uncover those strengths and also areas of challenge. 
It's hard to keep a straight face while surfing so even the most stressed of people will find it hard not to relax and have a giggle. 
It's very normal to see a group of nervous or serous grown ups enter the water only to emerge a couple of hours later looking and sounding more like giddy children! I love it. 
Every weekend all year round I run the popular Rebelle Women's Surf Series. I'm winter it's at Streedagh and summer in Strandhill twice a week. If you're interested in joining message our Instagram page and we'll add you to the WhatsApp group with weekly times and locations.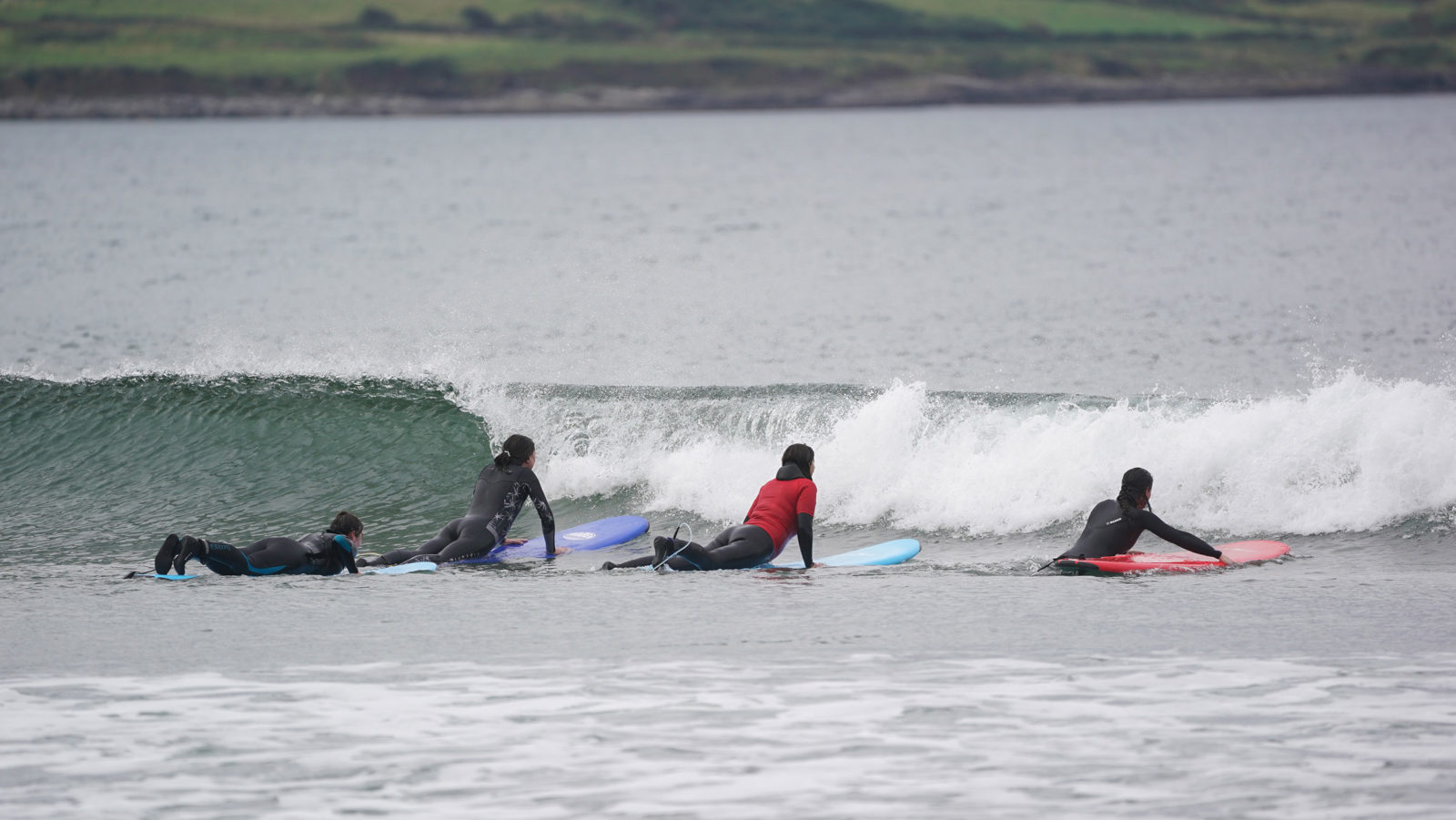 Photo credit:
Rebelle Surf
You also run workshops and retreats, what's involved?
I run mixed lessons every weekend through winter for beginners, intermediates and advanced also. 
Look out for the upcoming surf camps. We have one in the Canary Islands in March 2020 and a women's Summer Solstice surf weekend retreat 19th to 21st June. 
Surf camps are also a great way to experience the surfing buzz and give yourself a chance to get really immersed in surfing.
It's a great activity for work teams and corporate groups as everyone returns to equal ground in the face of the ocean. It tends to bring out the big kid side of us too and stuff that felt oh so serious on land can lose its potency and appear in a new light with often a new perspective.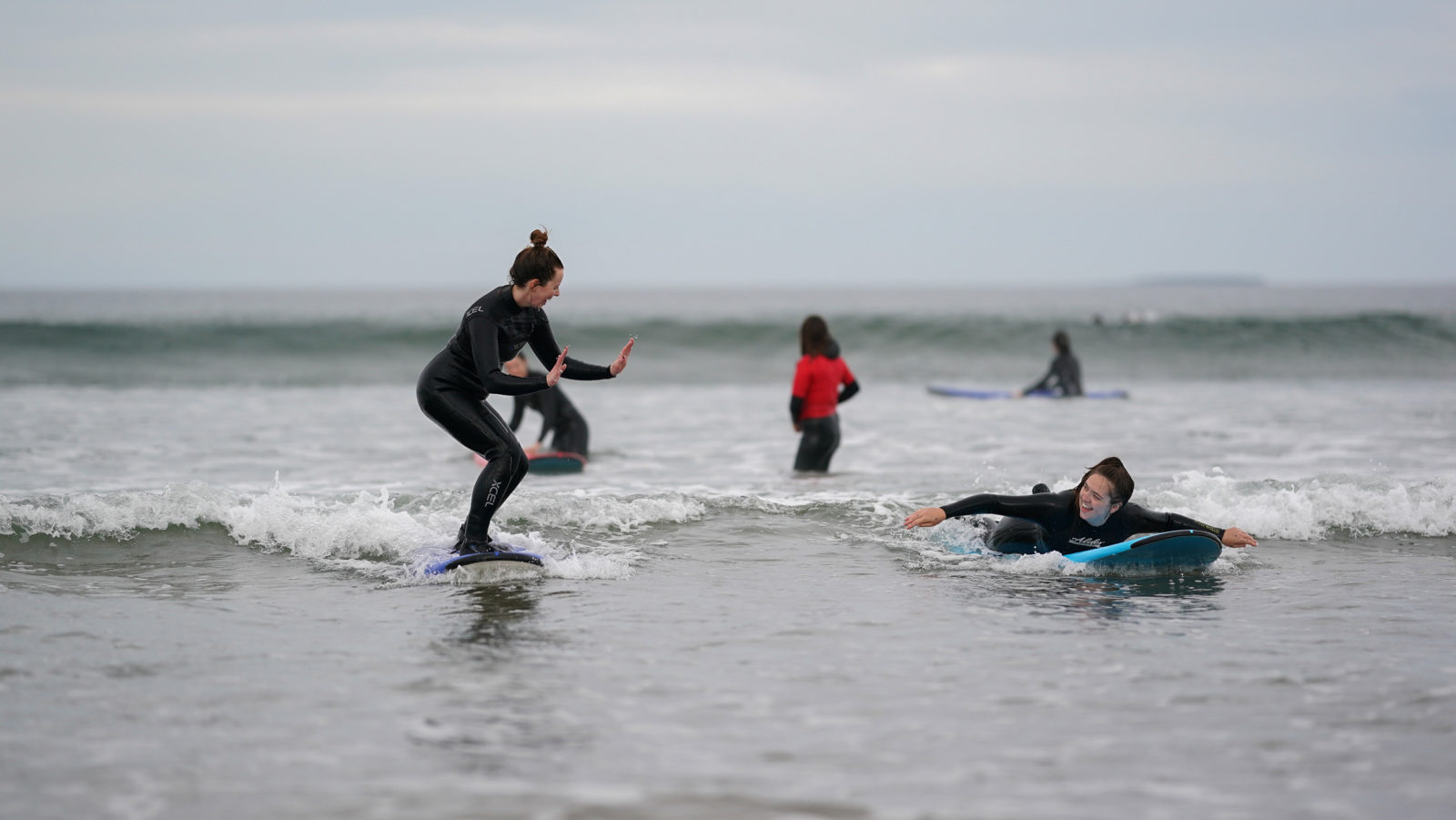 Photo credit:
Rebelle Surf session at Strandhill Beach
Describe your perfect adventure?
Cold water simple:
Head to one of my favourite waves on the Sligo coastline. Pumping lined up ground swell as far as the eye can see. Van loaded up with goodies. My partner and my black Labrador Monty in the passenger seats. We'd camp up until the swell dies off. Paradise! 
Warm water:
Well, there would have to be waves of course! I don't need to surf every hour of the day but a surf a day would be mighty fine. I live in cold water paradise so if I would go for warm waves I'd mix it up a little. My priorities when I go on surf adventures are: Clean ocean water. Incredible food (I'm a food explorer). Somewhere I've never been before. Good coffee if possible but not a deal breaker. Interesting culture and people. Out of my comfort zone.
*Check out previous interview with Alicia Christofi-Walse if She Summits here.